Skip Global navigation and goto content
Florida Breast and Cervical Cancer Early Detection Program
Florida Department of Health in Alachua County
 

Mailing Address

224 SE 24th Street 

Gainesville, FL 32641 

 
Program Description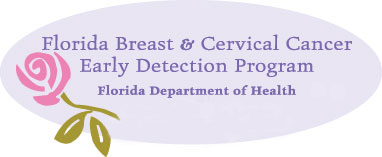 The National Breast and Cervical Cancer Early Detection Program (NBCCEDP), as administered by the Centers for Disease Control and Prevention (CDC), funds the Florida Breast and Cervical Cancer Early Detection Program (FBCCEDP). The NBCCEDP was created in response to the Breast and Cervical Cancer Mortality Act of 1990; Public Law 101-354. The FBCCEDP has been awarded funding by the CDC since 1994. The grant is administered through the central office, and 16 lead County Health Department (CHD) regional coordinators manage service provisions in the counties across the state to assure statewide access.
Breast and Cervical Cancer Screening Guidelines 
Breast Screening
In accordance with the revised 2009 U.S. Preventive Services Task Force (USPSTF) screening guidelines, early detection is possible through mammograms beginning at the age of 50, or earlier if family history puts one at increased risk, or as decided by the physician in consultation with the patient. After age 50, mammograms are recommended every 2 years or as advised by the women's physician.

U.S. Task Force Preventive Screening Guidelines
American Cancer Society Screening Guidelines
Cervical Screening
New Cervical Cancer Screening Recommendations from the U.S. Preventive Services Task Force and the American Cancer Society/American Society for Colposcopy and Cervical Pathology/American Society for Clinical Pathology, released March 2012.

Cervical Cancer Screening Recommendations
Program Requirements 
The Florida Breast and Cervical Cancer Program makes it easy to get the breast and cervical cancer screenings doctors recommend. The screenings are free or low cost if you meet program eligibility requirements.
You Qualify if You 
Are 50 to 64 years of age and,
Do not have insurance that covers the service and,
Are a woman and,
Meet income guidelines which are a household income at or below 200% of the federal poverty level.
To see if you qualify for the Florida Breast and Cervical Early Detection Program, or for more information about the program, please call 352-334-7926.