skip to content
Tobacco Free Alachua
Tobacco Free Alachua
 

Mailing Address

Tobacco Free Alachua 

224 SE 24th Street 

Gainesville, Fl 32641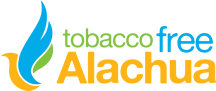 In 2012, the Florida Department of Health in Alachua County was awarded the Florida Community Based Tobacco Prevention Interventions Program (BTPP) grant to reduce local tobacco use and exposure to secondhand smoke. This grant supports the Tobacco Free Alachua community partnership, a community based organization which develops and promotes policies that will:
Prevent youth and young adults from starting to use tobacco products
Protect Alachua County citizens from involuntary exposure to secondhand smoke
Provide support for current tobacco users who want to quit
To learn more about Tobacco Free Alachua, its mission, successes, and community involvement, visit www.tobaccofreealachua.org. For information on 3 easy and free ways to quit tobacco use, visit tobaccofreeflorida.com.
Tobacco Free Alachua Team 
Andrew C. Romero, M. Ed.
Health Policy Specialist

Marilyn Headley, B.S.
Health Policy Specialist

John Michael Gonzales, MPH
Health Communication Specialist